the following press release was issued by the Inyo County Shefiff's Department:
Sheriff's Investigator, Shane Scott, has been selected to receive two additional Medal of Valor Awards for his selfless, and decisive actions during a vehicle collision that took place on August 9, 2010 which resulted in the rescue of a 22-year old college student from a burning vehicle.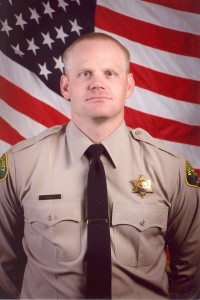 After hearing the details of Scott's heroic actions the Public Safety Officer Medal of Valor Review Board recommended Scott for the Governor's Medal of Valor. Governor Brown has determined that a ceremony will take place September 14th, 2011 at the State Capitol in the Governor's Council Room to present Scott with this prestigious and honorable award. The Governor's Award is the highest recognition presented by the State of California for Public Safety Personnel.
The California State Firefighter's Association (CSFA) has also selected Scott to receive the CSFA Medal of Valor Award. Each year CSFA presents awards and provides public recognition to individuals who have placed their own lives on the line in order to save that of another. The award ceremony will take place September 30, 2011 in Sacramento.
Scott was the recipient of the California Peace Officer's Association Medal of Valor which was presented to him on May 27, 2011. Scott also was also presented with the Inyo County Sheriff's Medal of Valor Award during a ceremony on June 16, 2011.
"These awards will make Investigator Shane Scott the most decorated deputy in the history of the Inyo County Sheriff's Department," stated Lieutenant Randy Geiger.
"I am extremely pleased that Investigator Scott will be receiving these two honorable awards," stated Inyo Sheriff Bill Lutze.