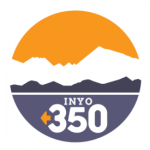 INYO350 is inviting the public to a Virtual Natural History talk entitled Detecting the Threatened Sierra Nevada Red Fox.  The presentation will be by Brian Hatfield of the California Department of Fish and Wildlife (CDFW) and will be on Wednesday May 20 at 7:00pm.
In order to attend the on-line presentation on the Sierra Nevada Red Fox, please send an email to [email protected] and a link will be emailed to you.  There will be an opportunity for questions and answers after the presentation.
Brian Hatfield is an Environmental Scientist in CDFW's Bishop Field Office and he is the lead coordinator for alpine mesocarnivore and Sierra Nevada red fox surveys in the central and southern Sierra Nevada.  Brian has worked with the department since 2012 and is in his fifth year coordinating the Sierra Nevada red fox program.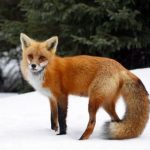 Brian provided a little information about the Sierra Nevada red fox (SNRF) to spark your curiosity to find out more about an animal you might not have even known was found here locally.  The SNRF is a subspecies of red fox native to the high-elevation regions of California and Oregon. Until recently, scientists thought the SNRF had been extirpated from California. Today scientists know of only two small populations of SNRF in the state, and the subspecies is a candidate for listing under the Federal Endangered Species Act.
In 2018, the California Department of Fish and Wildlife detected at least three SNRF in the Mono Creek study area northwest of Bishop. These detections mark the southernmost confirmed occurrence of SNRF in nearly 100 years, raising exciting questions about the contemporary distribution and population trajectory of SNRF in California, and prompting more intensive surveys to track this elusive carnivore at the southern edge of its range.
For more information or if you have questions about attending this presentation please call 760-937-8081.  For more information about INYO350 go to https://inyo350action.org/  and follow them on Facebook or Instagram.