– Press release
On July 15, 2014, the State Water Resources Control Board approved emergency water regulations to ensure that, among other things, all California residents conserve water, regardless of water source or purveyor. On May 5, 2015, the State Water Resources Control Board extended and expanded the emergency regulations based on an Executive Order that Governor Brown issued on April 1, 2015.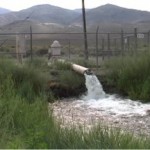 The State Regulations are codified at California Code of Regulations, Title 23, Section 863, 864, 865, and 866 and discuss who shall conserve water and what water suppliers shall do, based upon the number of services they serve.
Based upon these updated emergency regulations adopted by the State Water Resources Control, the Inyo County Board of Supervisors has also revised the County's emergency drought regulations. This includes additional end user regulations as well as restricting watering to two days per week. Even numbered addresses may water on Wednesday and Saturday. Odd numbered addresses may water on Thursday and Sunday.
Inyo County has scheduled community meetings in Lone Pine and Independence to provide information on the State regulations, the County's regulations and how that impacts town water systems consumers.
Public Meetings are scheduled for-
Independence: 6:00 PM, June 9, 2015 at the American Legion Hall, 205 South Edwards Street, Independence, CA 93526
Lone Pine: 6:00 PM, June 10, 2015 at Lone Pine Senior Center Statham Hall, 138 South Jackson Street, Lone Pine, CA 93545
We urge all town water system customers in Lone Pine, Independence, and Laws to attend one of these meetings. For additional information, please contact Inyo County Public Works at (760) 878-0201.