In the old days, as LADWP churned Owens Valley water south to fill up LA swimming pools, Diaz Lake in Lone Pine used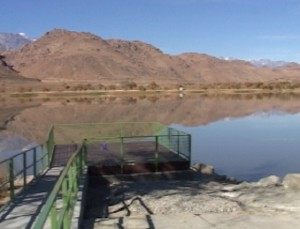 to drop dangerously low with local fears that LA might let it dry up. In one of the past agreements, DWP did give in to water delivery for Diaz, but Inyo has to "pay DWP back" with pumped water. That deal and some other projects recently moved ahead.
Environmental documents have come together on several projects. Inyo Water Director Bob Harrington said that in the 1997 Memorandum of Understanding attached to the Water Agreement, DWP agreed to give 1600 acre feet of water to mitigation of Hines Springs and other locations. A special committee of citizens, called the Ad Hoc Group, has worked with DWP over the last two years to come up with a list of projects.
Projects include the Hines Springs area near the aqueduct intake road, a lease below Keough's, a couple of wetland habitat projects out Mazourka Canyon Rd. and assurance of a water supply for Diaz Lake. This project still troubles some. DWP will deliver water to Diaz if the County gives them pumped water from the Bairs-George wellfield which could hurt Reinhackle Springs. DWP wants 200 acre feet of water.
It's unclear if the MOU parties will go along with pumped water in exchange for water to Diaz Lake. Since DWP pumped water over its limit for the last two years, some suggest Inyo owes LA nothing.