Inyo County Water Director Tom Brooks has left his position, apparently asked to leave by the Inyo Board of Supervisors.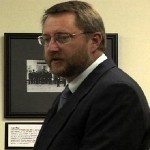 A short press release states this: "The Inyo County Board of Supervisors at its regularly scheduled meeting of November 27th, decided to change the administrative direction of the Inyo County Water Department." The release goes on to say that Brooks "will be leaving employment with Inyo County to return to private industry." The Board thanked Brooks for his more than two years of service to the County.
During those two years, Brooks oversaw the completion of work that said Inyo and DWP should use the depth to water as the way to manage groundwater pumping. Instead of urging him to move ahead with this critical information, the Supervisors supported more talking with LADWP and another three-year delay while both sides discuss science.
As for who will head the Water Department now, Deputy County Administrator Kevin Carunchio said that the Supervisors are expected to consider the appointment of an interim director when they meet next Tuesday. The agenda packet says that the Supervisors will appoint Water Department hydrologist Bob Harrington to the spot of interim director at roughly $8600 per month.
Asked what issued led to the departure of Tom Brooks, Carunchio said he could not comment because it is a personnel issue.
As for the water issue in Inyo, the Board of Supervisors have only taken steps to continue talks while more than a dozen disputes hang fire over the Long Term Water Agreement. Carunchio insisted that the County is "committed to strengthening the mission of the Water Department." For some, that mission remains unclear.