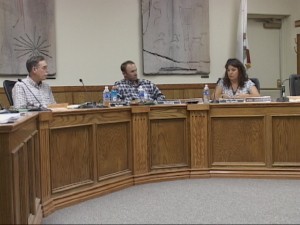 Pulled back from the brink of demise, the Inyo Water Commission now seeks new members. The Inyo Supervisors had at first leaned towards closure of the Commission which has held onto only two members. A third commissioner, Paul Lamos, volunteered to stay on briefly after his term expired.
The Supervisors and the Commission were poised to end the Commission created by the Long Term Water Agreement. When citizens stood up to comment on closure of the Commission, they said consistently that the Commission should continue and should deal with more issues, making recommendations to the Supervisors.
Some spokesmen said the Water Commission is the link between the public and the water issues. At the end of that meeting, the three remaining Water Commissioners agreed that they should continue.
At a recent Inyo Supervisors' meeting, board members also agreed the Commission should continue and they ordered vigorous recruitment of new members. In the past, those with strong views and background on water matters have been passed over for more go-along members who won't make waves and even DWP lessees.
There are four four-year terms open. Those interested in applying should submit your requests for appointment to the Board of Supervisors at P.O. Box N, Independence, CA 93526. Requests must be received by the Clerk of the Board on or before 5pm October 14th.