Inyo County Water Commissioners would have discussed their role and their goals for the year but only three commissioners showed up. Vice Chair Mike Prather led the meeting and tabled the discussion of the Commission's role and goals. The lack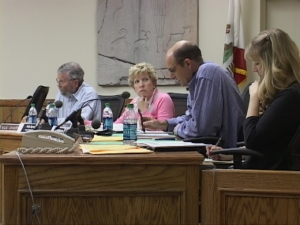 of interest in this Commission continues, and they won't meet again until late April.
One item of lively discussion was the Coso Geothermal plant and plans to pump more water in Rose Valley. Gary Arnold, the lawyer for Little Lake raised serious objections to the consultant report that called for the possibility, he said, of tripling the amount and years of pumping water to transfer to the geothermal plant. There are fears of damage to Little Lake.
Water Department staff have the power to decide what happens next in Rose Valley. Chris Ellis of Coso said that planned data from pumping over the past year has been used to "recalibrate computer models." He did not agree with Gary Arnold's concerns.
The California Native Plant Society's Steve McLaughlin objected to more pumping. So did Sally Manning, plant ecologist. All of those with concerns urged the Water Commission to get involved.
Mike Prather then tabled talks about Water Commission goals and duties since just three members were there. He said, "Statements have been publicly made that the Water Commission doesn't do anything and nobody listens to them. This worries me," said Prather. He said there's a lot going on with the water issue in the Owens Valley, and he said the Long Term Water Agreement is "broken in a fundamental way."
Even with the tabling of the issue that drew people to the meeting, Prather said, "We're serious about being up here to do something. We're not just here to warm a chair." The jury is still out. The Water Commission will not meet again until April 25th.