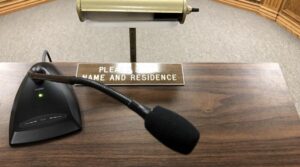 At Tuesday's July 14, Inyo County Board of Supervisors meeting, the frustration was evident as the county is forced to roll back on reopening plans because of the latest state OVID-19 revised public health orders issued on Monday, July 13. It's a frustration shared by many business owners and many residents alike. At the same time, it  has to be acknowledged that there was no way public officials in the county, the state, and across the country could not know this was coming given the massive upswing in COVID-19 cases.
HHS Director, Marilyn Mann, explained that the governor's order essentially turns back the clock in all of the state's counties, forcing the closures, once again, of some business activities which had been allowed to take place again indoors, but must now re-institute some closures of those indoor activities.
The list of closures includes dine-in restaurants, indoor wineries and tasting rooms, indoor movie theaters, indoor family entertainment centers, indoor zoos and museums, and indoor card rooms It also requires bars, breweries, brewpubs, and pubs to cease all operations unless they are offering sit-down meals outdoors and only serve alcohol as part of a meal.
Mann said the new modified order came as the result of the state monitoring statewide metrics. The metrics began noticing rapidly increasing rates of positive cases of COVID-19 in comparison to the number of tests being conducted. There were also more hospitalizations and increased ICU populations caused by COVID-19 evident.
"There is no deadline set for the latest state mandate," said Mann, going on to say, "…it would likely continue in place until the metrics based on COVID19 activity improved and stay improved."
Thirty counties, which thankfully do not include Inyo or Mono counties, face even stricter shutdowns. The closures for those other counties' include: shutting down gyms and fitness centers, places of worship and personal care services, such as hair salons and barbershops, and indoor protests and malls.
Mann said, "Because Inyo County is not on the 'monitored' list, we still have our ability to keep as much of our businesses open as possible."
Fifth District Supervisor and current Board Chairman, Matt Kingsley, voiced his clear frustration and concern for the Inyo County businesses that followed public health guidelines noting that "our businesses struggled to reopen, only to now find that they are in as sense being 'punished' for it."
Mann agreed, saying, "It was very difficult to hear this news yesterday in light of how hard our business industries have been working, and how so many of our businesses have been proactively trying to ensure compliance.
While we do have periodic complaints about businesses, by and large, most of our businesses have taken the challenge and have really stepped to the plate to try and make sure that we are successful and I just want to applaud them."
Ironically, Monday's new state public health order mandate took place just as the Inyo County Public Health Department released a revised local public masking order to incorporate the California Department of Public Health guidance in clarifying that Inyo County businesses are responsible to adhere to, and ensure their employees and customers are following, the mandatory face covering guidance.
The order goes on to say, "All businesses and indoor facilities shall strictly enforce the face covering requirements of this order with respect to their employees, contractors, customers, visitors, and volunteers while they are on the business or facility premises and shall refuse admission and service to any person who fails or refuses to wear facial coverings on the premises in full compliance with this order.
A "critical reminder" came with the latest public health order from both the state and the county that "Failure to comply with health officer orders places individuals and the community at increased risk of infection. Violation of health officer orders may also result in a misdemeanor punishable by imprisonment, fine, or both (Health and Safety Code 120295)."
According to Mann, the new modified health order was updated and reissued because local businesses were confused over their role in enforcing and ensuring compliance with cloth face coverings being worn by their customers. That is now much, much clearer, as is the fact that non-compliance will have consequences to businesses that fail to enforce the mask/face covering mandate.