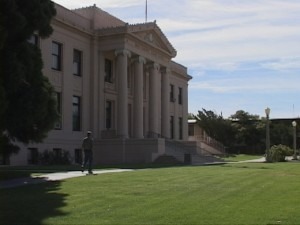 Some 25 years ago, the Inyo Supervisors decided to let the Department of Water and Power transfer towns water systems to Inyo County under the Long Term Water Agreement. Ultimately, the County hoped Community Service Districts in Lone Pine, Independence and Laws would take them over. The aging of the communities and the enormous cost to maintain the systems eliminated that possibility. The Board has contracted with Owenyo Services to run the systems and will now look at another company to handle operations.
The Board will consider contracting with a local firm called Wilder-Barton, Inc. to operate the Lone Pine, Independence and Laws town water systems. According to the back-up agenda, the annual contract cost to the County would be $188,000. The contract would cover three years.
The agenda says the previous contract with Owenyo cost around $323,00 per year. The County will apparently handle some of the water system work or hand it off to other contracts. It is not known if Wilder-Barton would immediately raise water rates for the communities. This is a Departmental item on the Board agenda with no specific time for consideration.
Lower rates for town water systems was considered a mitigation measure since southern Inyo and Laws had suffered by far the most groundwater pumping impacts. With water levels well below 40 feet in many places, it takes a lot of irrigation to keep plants and trees alive.
And, at 11am a workshop on the Senior Lunch Program and other services. The Health and Human Services staff wants some direction from the Board. A number of senior citizens had objected to reduction in meals which are important lifelines to many Inyo seniors.
All of these activities are considered Service Redesign to make up for the County's large budget shortfall.