A housing development in the viewshed of Mt. Whitney? As of Tuesday, Jim Walter's Whitney Portal project can go forward.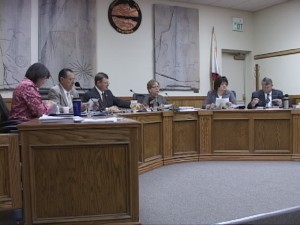 In March, the Inyo Planning Commission approved the environmental document and the subdivision. Then the Save Round Valley Alliance appealed the decision to the Inyo Supervisors. That group has taken the position that the 27-lot subdivision does not belong in the Mt. Whitney area.
Tuesday the Inyo Supervisors voted to uphold the Planning Commission decision. Planners said that the project does now include mitigation measures to address visual impacts – requirements involving height and setback restrictions, colors, building materials, landscaping and lighting.
The Save Round Valley Alliance does have the option to appeal the Supervisors decision in court. Members of that group said they plan to meet and discuss further action. Their decision on what to do next is pending.