At midnight Wednesday, the Inyo Board of Supervisors finally voted to uphold the Planning Commission decision to grant permission to Coso Geothermal to pump and export water out of Rose Valley. The hearing started at 9am and ended 15 hours later.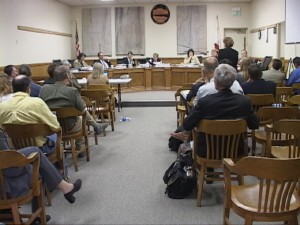 The bleary-eyed crowd kind of expected the denial of Little Lake Ranch's appeal of the use permit. The final vote was 4 to 1 with Supervisor Marty Fortney voting no. The other four supervisors upheld the decision on the permit.
Little Lake lawyers and others argued that the Environmental Impact Report on the water project was inadequate in several ways. They contend that the groundwater pumping and export of water out of the basin will eventually dry up Little Lake, visible from Highway 395 and part of Little Lake Ranch.
Coso Geothermal officials argued that the environmental document proves their monitoring program will help to avoid significant environmental impact.
Those opposed to the project point out that the amount Coso wants to pump – around 4800 acre feet – roughly equals the amount of recharge every year.
It is unknown if any further legal action will delay this project.