By Deb Murphy
Inyo County Supervisors Matt Kingsley and Jeff Griffiths spent a week in Washington, D.C. and came back with the news that the Yucca Mountain nuclear waste crypt may still be built in Nevada 17 miles from the county border over an aquifer that day lights in Death Valley near Tecopa/Shoshone.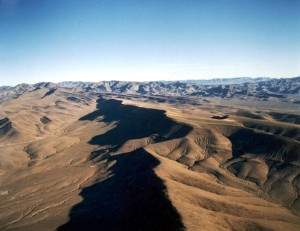 Nevada Senator Harry Reid has been responsible for sticking a monkey wrench in the project, but Reid won't run for re-election in 2016, opening the door for proponents of the project to start a full-court press.
According to attorney Greg James who has been working for the county to keep an eye on the project, the D.C. Circuit court of Appeals ruled that if funding is available, the law requires the adjudicatory process to proceed. That process involves hearings on whether or not the high-level nuclear waste repository is safe.
But, the future of Yucca Mountain may depend more on who gets elected President and the will of Congress to fund the hearings. "Hillary (Clinton) has said that Yucca 'remains off the table,'" James stated in an e-mail. While current Republican candidates haven't gotten around to the issue, if a pro-Yucca Presidential candidate is elected and Congress appropriates funds for the process, "hearings on whether or not Yucca is safe could start in as soon as two years."
Despite the bent of the next President, "Congress (without Reid) could pass veto-proof funding for Yucca" by including the funding in an overall funding bill.
According to James, many members of Congress support completing the adjudicatory process "so that it will be determined whether it is scientifically safe to open Yucca."
James gave an update to the Board of Supervisors last March, including the colorful history of the project's support from Nye County. Inyo County's concerns focused on exposure to the Amargosa River and aquifers below the site.
If completed, the facility will operate for 100 years at which time titanium drip shields will be installed to protect the waste casks from water corrosion. "There's not enough titanium on earth to shield those casks," James told the Board. With the temperature of the buried casks nearing 2000 degrees, the shields will have to be installed by robots with technology not currently available.