Inyo County press release
Among the many agenda items before the Board on November 15, 2016 is a presentation regarding the conversion to a weight-based fee structure at the Bishop-Sunland Landfill.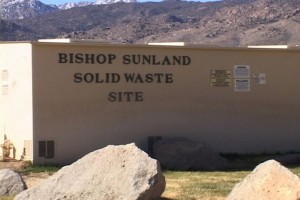 According to Assistant County Administrator and Director of Recycling and Waste Management Rick Benson, the issue at hand is correcting a system originally designed to ensure fairness so that it actually applies fees in an accurate and fair and consistent manner.
He will present a year's worth of analysis at the Board of Supervisors meeting this coming Tuesday, at 1 p.m., before bringing a Resolution to the Board next month to implement the new, weight-based fee schedule in early 2017.
The current gate rate at County solid waste facilities is $5 per cubic yard for residential, self-hauled garbage. Other disposal rates are tiered off of the $5 per cubic yard rate charged to the general public. Last year, the County installed a scale at the Bishop-Sunland Landfill, which receives about 70% of the trash disposed of in Inyo County. Since that time, County staff has been gathering data, analyzing more than 3,000 loads of waste brought to the landfill.
"We undertook our analysis to ensure that when we switched over to a weight-based fee structure in Bishop, the average self-hauler – the person bringing in a pick-up truck with a couple trash cans and paying $5 to dump his trash – did not see a change in how much he was paying when we started to weigh his truck," said Benson.
The result of the analysis show that the $5 per cubic yard rate translates to about $56 per ton based on how much the typical cubic-yard load actually weighs. However, Benson said, staff will be recommending that the new, weight-based rate be set at $50 per ton instead of the $56 indicated by the study. He also said that self-haulers who bring in loads of waste weighing less than 200 pounds will be charged $5, and that loads from the general public weighing more than 200 pounds will be charged an additional 50 cents for every 20 extra pounds.
Another benefit of the new scale is that estimating waste volumes will be a thing of the past. "We have had a lot of complaints from people bringing in what they think are two identical loads and being charged differently based on how the gate attendant estimates the load," Benson admitted. He added that the County will also be able to provide more accurate disposal tonnages to the State – instead of estimating volumes and then converting those estimated cubic years to tons – which uses the data to determine the County's and City of Bishop's compliance with state recycling laws.
Benson did note that his staff's analysis has indicated that once the County adopts a weight-based fee schedule based on $50 per ton, other disposal costs are likely to go up, most notably on large commercial trash hauler loads. This is because the $5 per cubic yard rate is not translating like it was intended. For example, trash delivered by garbage trucks are charged $3 per yard of compacted waste, but the County's year-long analysis shows that equates to just $12.97 per ton instead of $56 per ton.
When the County implements a more equitable rate, garbage collection costs could increase. County staff estimates the increase will be less than $7 per month, with the curbside garbage service rate possibly going from $20.29 per month to around $26.40 per month. But that charge will ultimately be up to the commercial haulers to request from the Board of Supervisors through the County's process for setting a "rate floor" or minimum charge.
"If that's where the rates go, it's still a great deal," noted County Administrator Kevin Carunchio. "You can haul your own trash to the landfill once a week for about $20 a month, or can pay someone to collect it from the end of your driveway each week for only $7 more. That still seems like a good deal."
County staff stressed that Tuesday's presentation is just that – a presentation – and no rates will change unless the Board takes action at a future meeting. And, if the Board does approve the change in the fee schedule next month, it will only change the self-haul rate from being volume-based to weight-based; members of the general public who self-haul garbage should not see a change in costs if their loads are under 200 pounds.
A survey of landfill rates in other rural counties indicates the $50 a ton fee is still relatively low. Some large counties, like Kern, with economies of scale charge $45 per ton, but a survey being presented to staff show that rates range between from $74 a ton to $147 per ton in four other similar counties.
The Board is scheduled to meet at 10 a.m. Tuesday, November 15 in the County Administrative Center in Independence. The presentation on a weight-based fee structure at the Bishop-Sunland Landfill has been scheduled as a timed item, not to be considered before 1 p.m.