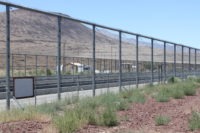 Tuesday's Inyo County Board of Supervisors' meeting reconvened from the administration building in Independence to Fish Springs Fish Hatchery to get a first-hand look at the impact ofpumping on what was once a source of native fish for the Big Pine Paiute Tribe.
The Supervisors, staff, tribal members and interested locals headed to the hatchery but could not enter the premises due to the presence of lactococcus garvieae. The bacterial infection first appeared in Eastern Sierra hatcheries in 2020, then made a comeback this summer. Infected fish are being euthanized; an inoculation has been developed to combat the disease.
Sally Manning, the tribal environmental director, and Noah Williams, water program coordinator, made their case at the meeting. Fish Springs went dry after the two wells were activated in 1970. The five-acre pond adjacent to the hatchery is now dry and those on the tour had to guess where the pond's original boundaries were.
Two Los Angeles Department of Water and Power wells now provide water to the hatchery, which was once spring fed. The wells pump 20,000 acre-feet a year. The water from those wells circulate back to the Owens River. When the hatchery operation was shut down during the initial bacterial infection, the water table in the area rose four to eight feet.
Manning made the point that if the water was discharged onto the surrounding terrain, it would restore the landscape, end up in the aquifer and eventually make its way to Los Angeles.
Adam Perez, LADWP's aqueduct manager, called in during the meeting. While open to the discussion, he could not make any commitments.
The California Department of Fish and Wildlife, the hatchery managing agency, indicated water use could be reduced by 12-percent. But, the tribal goals are to see the springs run, a more diverse habitat and restoration of cultural resources. CDFW's Dan Tonseth, hatchery manager, attending the meeting via Zoom, told the Board water savings could be achieved.
The department has made contact with vendors, money has been allocated but it will be several years until any improvements can be done.
In response to the strong support from meeting attendees, Leslie Chapman, Inyo's Chief Administrative Officer, said "The Tribe is asking for support; we're not being asked to solve the
problem."
Tribal member Ross Stone addressed the hatchery tour on site. He told stories of hisgrandfather, who lived near the springs, and father fishing in the ponds. "The native fish weremuch better" than the planted trout, he maintained. The Tribe wants to see more than the 12-percent reduction in pumping. They want to see the springs brought back to life.