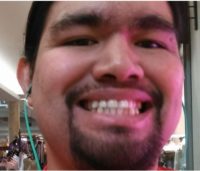 Friends and relatives of George Barlow addressed the Inyo Board of Supervisors at
Tuesday's meeting, asking for an investigation into the altercation between Barlow and Inyo County Sheriff's deputies last weekend, an incident that has been widely viewed on the Internet.
"What would you do if George Barlow was your son?" asked Roger Barlow during the initial public comment period. "The whole community is your family."
Board Chair Jeff Griffiths responded within limits of items not on the Board's agenda. "Legally we can't discuss," he said. "The Sheriff is an elected official. I'm not sure what role we play in this. I'm personally concerned and looking forward to a full investigation." Sheriff Jeff Hollowell did address the issue during the agendized department reports. The District Attorney's office will conduct an investigation in the use of force, a long-standing
policy. In addition, the Sheriff's Department has hired an independent firm to conduct an investigation. Both investigations should take three weeks, Hollowell said.
"I understand the frustration and shock and ask for your patience," Griffiths said. "Let the investigation run its course."
No update on Barlow's condition is available.