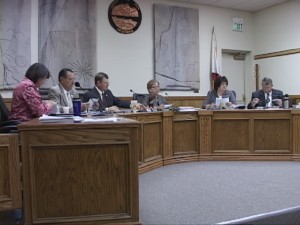 Richard McKee of the First Amendment organization called California Aware has sent the Inyo Supervisors and County Counsel a Brown Act Demand for Correction. McKee stated in a letter that the County's Klondike Subcommittee should not meet in secret as it has for the past six months.
It was in May that the Inyo Supervisors formed the subcommittee with Board members Susan Cash and Marty Fortney to work with DWP and citizens to find a solution to DWP's closure of Klondike Lake to motorized boats.
Mr. McKee argues that the subcommittee is actually a standing committee of the Board, with its continued meetings, and subject to the Brown Act. The demand letter says, "I point out that the Subcommittee was not created to be advisory to the board but rather empowered to exercise the Board's authority in negotiations with other private and public entities."
The letter also says that "The Klondike Subcommittee, working to forge a deal between various interests, should not be cloaked in secrecy, both to avoid the perception of some quid pro quo unfavorable to the public and to facilitate public participation in the process." The letter makes a Demand for Correction which says "The Board shall agree that the Klondike subcommittee will conduct only open, properly noticed meetings in the future." The letter gives the County 15 days to respond. Mr. McKee says that the issue is "ripe for declaratory relief", meaning legal action.
I called Inyo County Counsel Randy Keller for his response. Keller said of the letter, "I looked at it. I haven't analyzed it yet. I can't say much."
Board of Supervisors Chair Bev Brown said, "I thought the meetings were in public. I had no idea they were in private. I think our attorney needs to look at this."