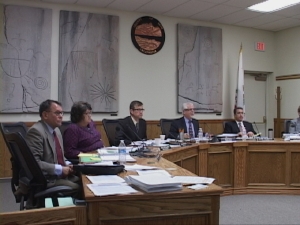 As the organization ICARE continues to bring in donations, Inyo County officials are moving ahead with the planning, design and environmental phase of the new Animal Shelter project. Tuesday the Supervisors expect to receive an update on the project and to make decisions.
The Planning Commission recommended approval of the environmental documents stating that the project will not have a significant effect on the environment. The Supervisors may also approve the plans and specifications for the new Inyo County Animal Shelter. They will also likely authorize the Public Works Director to advertise and bid the project.
The organization of ICARE has continued to raise funds for the Animal Shelter. According to the Board agenda, the County will provide $375,000 toward the $750,000 cost of the project and ICARE will also provide an estimated $375,000.
The new building of 3,360 square feet will be located next to the existing animal shelter building on County Road near Big Pine. It will include 22 indoor/outdoor dog kennels, 24 cat cages and viewing room, an ADA compliant restroom, an office and the additional amenities necessary for a fully functional animal shelter, according to the County.
In other agenda items before the Board of Supervisors, the Water Department planned to hold a workshop with the Board on the dispute between Inyo County and LADWP over vegetation conditions in what's called the Blackrock 94 parcel north of Independence and the efforts made by the Technical Group and Standing Committee to resolve the dispute.
At a recent Standing Committee meeting, officials from both Inyo and LA did approve a proposed resolution to this long-standing disagreement. In it, DWP would agree to reduce pumping in the Blackrock area by 4300 acre feet and would conduct prescribed burns on some 665 acres where groundwater is high to allow for revegetation. DWP would not admit that its groundwater pumps caused the damage at Blackrock.
The Water Department points to what could be a long, drawn-out dispute that could go from arbitration to Superior Court if there is no resolution at this point. The agenda material also says that the workshop will, in part, provide information on the proposed resolution and "provide a forum for any interested parties to address the Board with their concerns." The agenda material notes that the County was criticized at Technical Group meetings for not allowing adequate public review of the proposal. The workshop is designed to do that.