From Real Estate to groundwater pumping, a long list of constantly recurring issues between Inyo County and the City of Los Angeles came up at the Inyo Supervisors meeting Tuesday.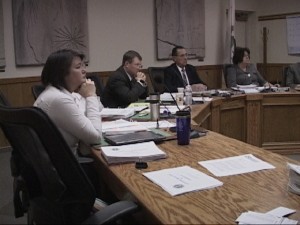 Inyo County Supervisors and staff were preparing for the next Inyo Los Angeles Standing Committee meeting where officials get together to talk water issues as required by the Long Term Water Agreement.
Plans for groundwater pumping, the seasonal habitat flows for the Lower Owens River Project, and water for the Black Rock Waterfowl Habitat project are all based on the snowmelt which is predicted to be 95% of normal this year.
Water Director Bob Harrington explained that based on the predicted runoff this year, the seasonal habitat flows for the Lower Owens River Project, designed to mimic a spring flood, could be ramped up to 184 cfs, but this year the plan may be to increase the flow even higher than required to 200 cfs. The timing of these seasonal habitat flows is based on when willows and cottonwood trees send out their seeds.
While a few lots were sold during the first round of auctions, the 75 acres of land scheduled to be released into private hands is on the agenda for the coming meeting. County Counsel Randy Keller explained that at last word, DWP planned to auction some of this land in August. High appraisal values contributed to slow sales the first time around, but Kevin Carunchio said that this time Inyo County would appraise the land a month before the auctions so that the appraisal value is up to date.
Carunchio also told the board that the county continues to talk to DWP staff about selling off additional city-owned lands in the Owens Valley. Supervisor Linda Arcularius said that the county is not asking DWP to sell the watershed lands but the commercial properties.
While there does appear to be some interest on the part of DWP to sell off some lands in the Owens Valley, there is no time table on possible land sales beyond the 75 acres in the water agreement. To emphasize the difficulty of land sales becoming reality, Carunchio called Department of Water and Power and the City of Los Angeles a tremendously large bureaucracy inside a larger bureaucracy.
The Green Book groundwater pumping rules are still a work in progress, though Harrington told the board that there was little to report. A discussion of the quagga mussel and how the Forest Service and Fish and Game are approaching the issue is on the agenda for the Standing Committee.
The Standing Committee is set to meet Thursday in Los Angeles.