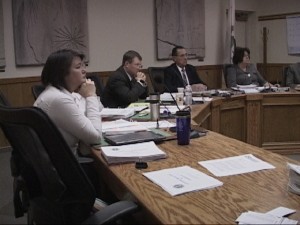 Once again, the Inyo Supervisors mostly passed over outspoken critics of the Department of Water and Power and appointed what some observers called "middle of the road" candidates to the Inyo Water Commission.
The Inyo Board first reached a consensus to appoint Mike Carrington of Big Pine and Sally Symons of Bishop. Then, Supervisor Richard Cervantes recommended Dan Smith of Lone Pine and Susan Cash suggested Mike Prather of Lone Pine. The Supervisors voted unanimously to appoint Carrington, Symons, Smith and Prather. Of the newly appointed commissioners, Prather is ranked the most outspoken and informed on water matters. He has participated in citizens groups and actions to help enforce the Long Term Water Agreement. Prather has also been outspoken about the importance of protection of the Owens Valley environment.
The people the Supervisors chose not to select that would have brought strong voices to the Commission are former Water Department vegetation specialist Sally Manning, who forcefully called DWP's hand on a number of issues during her tenure. The Board also overlooked Daniel Pritchett, conservation chair of the local California Native Plant Society, another articulate and public critic of water issues.
The Board also passed over Daris Moxley, a DWP lessee and rancher with strong views on DWP. Another DWP nemesis left in the dust was Nina Weissman who masterfully organized a Proposition 218 opposition to DWP's attempt to raise sewer rates in Independence. Harry Williams, who publicly scolds DWP for its behavior was also not selected.
Water Director Bob Harrington said he would poll new water commission members about a meeting date. The only incumbent member of the water commission remains Teri Cawelti of Bishop.