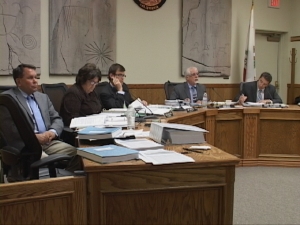 Is the public in the mood to pass a new tax? If the City of Bishop and the County of Inyo decide to get involved in a ballot measure for a Transaction and Use Tax, countywide voters would have a say. The City of Bishop has also discussed doing its own thing on the TUT. Tuesday the Inyo County Administrator has asked the Supervisors to discuss Bishop's invitation to join in a TUT ballot.
There is very little information available. More was expected at the Supervisors' meeting, although the item was not scheduled at any particular time. Currently, there is what's called a Transaction and Use Tax countywide. The Bishop Administrator suggested that one idea would to be to raise the TUT from 1/2% to 1%. Both the City and the County would get a portion.
At 11am today, the Water Department planned to ask the Board to approve documents for the proposed resolution of the Blackrock 94 dispute. The proposed resolution was already approved by the Standing Committee.
At 1:30pm, was a continued workshop for additional discussion on the Senior Meals Program. At the last meeting, Health and Human Services Director Jean Turner offered options of cutting the program by numbers of meals or numbers of days. The Senior Citizens Advisory Council wanted as little change as possible to what they see as an important service for seniors countywide.