By Deb Murphy
The Inyo County Board of Supervisors approved the ordinance designed to make damage to resources by motorized vehicles a misdemeanor, with a $500 price tag, as written, but not without discussion on stiffening the penalties. Final approval is scheduled for the board's April 21 meeting.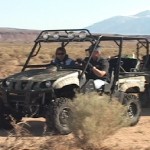 The ordinance was pivotal in the board's approval of the Adventure Trails Pilot Program in January and the timing is critical.
Assembly Bill 628 established the pilot project that sunsets January 2017. Full implementation with signage and educational programs will eat up roughly six months, giving the county only 18 months to see the results of a compromise that reduced the initial 70-plus routes to seven.
The ordinance states "no person shall operate…a motorized vehicle…in a manner likely to cause malicious or unnecessary damage to land, livestock, ranching operations, farming operations, cultural resources, natural resources, wildlife, wildlife habitat or vegetative resources." Violation would be punishable "either by a fine of $500, imprisonment of up to six months, or both."
The ordinance would apply to private lands as well as Los Angeles Department of Water and Power lands in the Owens Valley. LADWP has the final say on the project whose routes provide access to city property. Federally-owned property is already protected by federal laws with fines up to $5,000.
"If we really want to send a message, we need to make the fine higher or escalating with a hefty fee for the second offense," said Supervisor Mark Tillemans. Citing his wish to protect the program, Tillemans argued that a second offense fine of $2,500 would make a stronger statement. "We have the opportunity to really educate the public that we mean business," he said. "We're giving access but stay on the roads."
Inyo County Sheriff Bill Lutze agreed that escalating fines would be effective. "A sliding scale would be appropriate," he said. He also noted that the court could impose the cost of restoration for damage done to county lands "that could amount to tens of thousands of dollars."
"We have a good way to start here," said Supervisor Rick Pucci in reference to the ordinance. "There will be always be goof balls, but others may just not be sure. This is all new. (The project) will work if people let it work." One of Pucci's concerns was ATVs ending up on non-roads unintentionally and being hit with a stiff fine. Lutze assured him that local law enforcement agencies would be able to determine the difference between a mistake and malicious damage. Officers from federal agencies cannot write citations on county ordinances.
To cover all the bases, Supervisor Don Totheroth suggested showing LADWP the ordinance as written. "If they insist (on stiffer fines or different wording), then we can re-do it."
The final solution, moved by Supervisor Jeff Griffiths, was to vote to enact the existing ordinance at the April 21 meeting, but have revisions for higher and/or escalating fines prepared. The motion passed.