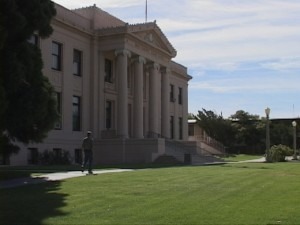 While taxes paid by Coso Geothermal operations may sit near the top of the list for Inyo County government, it doesn't come cheap. Coso has contested several of the County's assessments.
On Tuesday's board agenda, Assessor Tom Lanshaw will ask that the County approve a contract with Harold W. Bertholf Inc. for mineral appraisal services for the next three years in an amount not to exceed $401,820. The agenda packet says that the contract involves appraisals on five operating mineral properties in Inyo County including the Coso geothermal projects.
The agenda item says these are "highly technical appraisals" and that outside expertise is needed.
At 11am on Tuesday, another scheduled discussion of a new animal shelter will take place. The agenda says the County Administrator, Sheriff and Public Works will take part. It is believed ICARE President Ted Schade will offer an update of that organization's fundraising efforts for the new facility. The current animal shelter at Big Pine offers only meager space for the many animals lost or abandoned.
Two ordinances will go before the Supervisors – one to raise Sheriff Bill Lutze's salary to meet the same kinds of raises offered to his officers under County agreements. Another ordinance would authorize pay to County employees on a bi-weekly pay schedule.
At 2pm on Tuesday, Julie Bear, Mt. Whitney Area Manager for the Sierra Nevada Conservancy planned to update the Board on Conservancy investments in Inyo. The agenda information says Sierra Nevada Conservancy has provided more than $1.1 million to 12 projects through Proposition 84. The projects include restoration of areas burned by wildland fires, the Lower Owens River Project recreation plan and invasive weed abatement, and several other Owens Valley projects.
Closed sessions of the Board include evaluation of the County Administrator and labor negotiation issues.