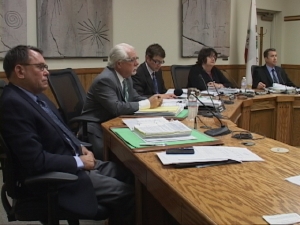 Inyo County Planning staff wrote strong comments of concern about the Department of Water and Power's proposed mega-solar project south of Independence. Tuesday, the Inyo Supervisors were supportive of the concerns.
The Supervisors made some changes and voted unanimously to send a letter and the Planning Staff comments to DWP during the comment period which currently ends November 2nd. The staff said there has been no meaningful public scoping of the current site and no reclamation plan to clean up the site when the project ends. The staff listed visual impacts on viewsheds from the valley floor and from the mountains as a problem. Concerns also include two new wells DWP wants to drill without considering the Long-Term Water Agreement. The project also fails to comply with the County General Plan, and there are unanswered housing impacts.
Citizens stood up to object to the project too. Mike Prather of Lone Pine said he was concerned about how fast the project was pushing forward. He said, "DWP doesn't have to have a boot on our neck." He said there is not enough time for reflection on public comments. He pointed to bird mortalities at other solar projects and potential impacts on the Lower Owens River project. Prather suggested DWP pay for an employee to work on the River recreation possibilities. Said Prather, "I do reject this project as it is. The area will be laid to waste."
Supervisor Jeff Griffiths pointed to a problem – Inyo County's potentially limited power over LADWP's land. Inyo County Counsel Margaret Kemp-Williams said, "There is an argument" that DWP may be free from County Code. Clearly, it's an issue.
Daniel Pritchett of Bishop said no amount of trees planted around the 1 million solar panels would mitigate the visual impact from the Inyo Mountains. He also said the project is not consistent with the County General Plan. Pritchett said, "We have to decide on this project not from the basis of fear." He said he wanted to go on the record that the location of the project is not the right place.
John Helmer, Tribal Preservation Officer of Big Pine and Independence Tribes, asked for a one month extension on the comment period and urged no signing of any agreement with DWP until after all comments are in. He also pointed out that with the government shutdown, federal agencies locally have not been able to comment.
Others talked about problems with archaeological resources and impacts on towns.