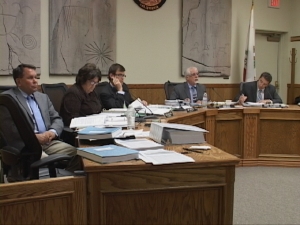 The Inyo Supervisors planned to start their meeting early today – at 8:00 am – with six closed sessions all related to labor negotiations. They say they will start their regular meeting at 8:15am. The most anticipated item today – an appearance by someone from the Department of Water and power at 10am to speak about LA's Solar Ranch project in the Owens Valley.
One of the first items on the agenda – insurance details in the contracts for new public defenders. The three new defenders for the indigent are Kristine Eisler, Sophie Bidet, and Josh Hillemeier. Eisler reportedly has one year of criminal experience and will handle felony cases. Bidet and Hillemeier will handle misdemeanor cases. Ms. Bidet has worked as an inyo county public defender for over a year and has been a practicing attorney for nearly 9 years, having come from family law practice at the Los Angeles firm of Trope and Trope. Mr. Hillemeier reportedly passed the bar in 2013. Their three-year contracts range from $373,000 to $450,000. Veteran public defender Elizabeth Corpora continues to handle juvenile cases.
At 9:15 am, Inyo National Forest Supervisor Ed Armenta planned to update the Board on the Inyo Forest Plan Update and Revision and other Forest Service issues. At the same time, the Planning Department staff will talk to the Board about coordinating with and providing input to the Forest planning process.
From 10 am until noon, a representative from the Los Angeles Department of Water and Power planned to appear and discuss energy resource plans including current thoughts related to the Southern Owens Valley Solar Ranch Project.
Dozens of citizens have opposed the Solar Ranch Project, including the Manzanar Committee. The project would be located directly east of Manzanar and would include one million solar panels and buildings on 1200 acres.
The Owens Valley Committee and dozens of individuals have also strongly opposed this project because of potential environmental damage and the disruption of scenic views of the Owens Valley.
After strong and consistent public outcry against this and other solar development, Inyo County cut its plans for renewable energy development areas in half, including complete elimination of the Solar Ranch area. The land does belong to LADWP which has maintained a unilateral right to do what it wants with the land.
Supervisor Chairman Rick Pucci had suggested inviting DWP to speak at a meeting about where this project stands.