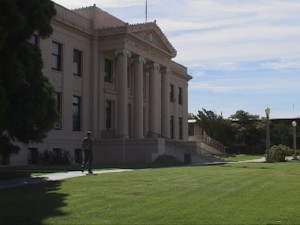 The disturbing news this fiscal year remains disturbing – Inyo County government will fall into a $1.8 million shortfall because of labor costs next fiscal year and double that the year beyond. In the somewhat strange world of government budgets, County Administrator Kevin Carunchio goes further to say that Inyo has a "structural deficit" that adds up to nearly $6 million next fiscal year and more than $10 million the following year. In the past, end of the year balances, he said, have covered this deficit, but the future looks unclear. How will Inyo stay afloat?
At the direction of the Board, CAO Carunchio turned to consultant Dr. Frank Benest who says a concept called "Service Redesign" will help. The Board planned to hear an update on this process which started last month in workshops with Dr. Benest. The idea is to avoid program cuts and staff reductions by redesigning services. In an all-day workshop after the December Board meeting, 58 people worked with Benest to form Service Redesign groups. The 58 attendees included officials from the City of Bishop, Mono County, Inyo Superintendent of Schools, Toiyabe Indian Health and a BLM representative. The Forest Service will also join.
At today's Board meeting, officials were expected to talk about ideas for saving money and services. Staff members will also talk about alternative approaches to balance next year's budget if projected deficits actually happen.
The CAO says the goal is to identify increased revenue and lowered expenses to reduce the budget by $1.5 million next year and by an additional $3 million the following year. These goals do not include service or staff cuts.
In a separate agenda item, in the Sheriff's Department, the retirement of Lieutenant Randy Geiger has left a vacancy. Sheriff Bill Lutze has asked that he be allowed to hire a new Lieutenant with funds already available. The Sheriff said there will be a testing process and an internal promotion. There are four working Sergeants in the department who may try for the Lieutenant spot. If one of them is hired, the Sheriff would then fill a Sergeant's position.