Tuesday, at noon, January 3, over 60 family, friends, and county officials looked on, as Superior Court Judge Dean Stout gave the Oath of Office to reelected County District Supervisors Jeff Griffiths (2nd District), Mark Tillemans (4th District) and Matt Kingsley (5th District) inside the courthouse in Independence.
All three supervisors easily won re-election to another four-year term.
A small reception was held afterwards in the lobby of the courthouse. The supervisors had to return back to work to finish out the rest of their regularly scheduled Board of Supervisors meeting at the County Administration building.
In the late afternoon in Lone Pine, the Chamber of Commerce held a special "Meet and Greet" reception at its office for members of the public to meet and congratulate the newly-sworn in supervisors.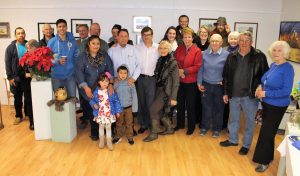 Superior Court Judge Dean Stout also won re-election to office for another six years. Stout had been sworn in earlier in the morning according to Clerk-Recorder & Registrar of Voters, Kammi Foote."
– Charles James