With little public interest in a group widely seen as having no real authority, the future of the Inyo County Water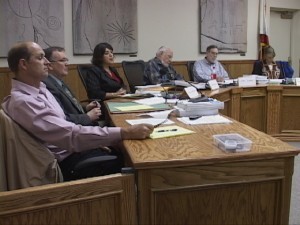 Commission is up in the air.
At the Inyo Supervisors meeting Tuesday, the board considered options that included dissolving the Water Commission and having another group take over the responsibilities, like the Planning Commission or the County Environment and Natural Resources Committee.
In recent years, the Water Commission has been charged with advising the Inyo Supervisors on water issues, and serves as the environmental review board for projects done by the Inyo Water Department. Also, as spelled out in the Long Term Water Agreement, two Water Commissioners serve on the Inyo Los Angeles Standing Committee.
Commissioner Paul Lamos explained several commissioners had resigned because they had no role to play. Lamos explained that the Supervisors have not asked for much advice in recent years from the Water Commission which was formed as an advisory group. The Water Commission did take a stand on the plan to pump groundwater from the Rose Valley to the Coso Geothermal Plant. The Commission recommended that the project be denied, but the Planning Commission and Board of Supervisors approved the project to move forward.
Some also see the Water Commission as somewhat powerless. As a commissioner, Lamos said that he thought he would have more say in the management for the Lower Owens River Project, which he says was handled instead by Inyo and LA staff at the technical group. As far as authority, we dont have very much, he said. Interest is so low that the Commission is only meeting four times a year now.
Public interest in the commission appears to be lacking. The Water Commission is currently short two of five members, and the third Commissioner, Lamos, wants to resign when the county finds a replacement.
County Water Director Bob Harrington explained that the county had advertised the vacancies on the commission and received no response, though he said one person did send an application in after the deadline. No press releases were sent out to publicize the vacancies though there was one advertisement in the newspaper.
Plans for the future of the Water Commission include pushing harder to find new commissioners to carry on or to reassign the duties of the Water Commission to another group like Planning Commission or the Environment and Natural Resource Committee. The supervisors made no decision in the matter on Tuesday, but the fate of the Water Commission is expected to be back at a board meeting in July.