With the possibility of large scale solar and wind projects on the horizon, the Inyo County Supervisors have passed an ordinance that creates a renewable energy permit system.
At their meeting this week the board members gave final approval to the ordinance that will require developers of solar thermal, photovoltaic, or wind energy power plants to get a renewable energy permit before the project moves forward.
T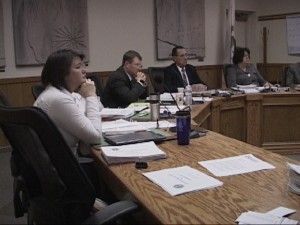 he permit system is set to give the county more say in projects that may be built on private land in southern Inyo, along with federal, state, and Los Angeles owned land. This ordinance would only come into play on large renewable projects not the various wind and solar power generators that people put on their houses.
The ordinance has been called the ground rule, for large renewable projects in Inyo County.
The board had approved the ordinance at their August 10th meeting. With the unanimous vote on Tuesday, the board enacted the new ordinance which is now in effect.