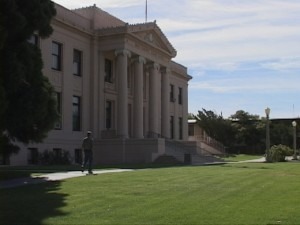 At the heart of the Inyo Supervisors' agenda today – a resolution that would officially declare a Local Drought Emergency. On the same note, the Water Department wants direction on how to work with the Department of Water and Power to develop drought plans.
The drought proclamation is a three-page document listed as item 13 on the agenda. It says that there are "conditions of extreme peril to the safety of persons and property" within the County caused by the condition of drought. The document points to the Governor's declaration of emergency and the low snowpack in the Sierra.
DWP's website shows the hallmark snowpack of Mammoth Pass now even with the driest year on record – the 1976-1977 snowpack. DWP's snow pillow readings of the snowpack show Mammoth Pass at 15% of normal to date. Rock Creek – 34%, South Lake – 33%, Big Pine Creek – 13% and Cottonwood Lakes at 33%.
Inyo County's drought proclamation named other factors – runoff to the Owens Valley was 50 to 60% the past two years, the Owens River is now flowing at 40% of its January average, Bishop Creek flows at 39%. They also name the dried up wells, ditches and ponds in Bishop, low precipitation, and impacts on agriculture and tourism.
The proclamation calls on DWP to work with officials, ranchers and others to develop plans to manage water, including the Air Pollution Control District.
Item 14 on the agenda says the Water Department wants direction on how to work with DWP on drought response and recovery plans. The Water Department also seeks direction on an agenda for the Inyo-Los Angeles Standing Committee which meets February 7th in Independence.
The Mono Supervisors do not meet this week but will meet again on February 4th.