The Inyo Supervisors have been at work to figure out how to keep more dollars spent by the local government in the local economy.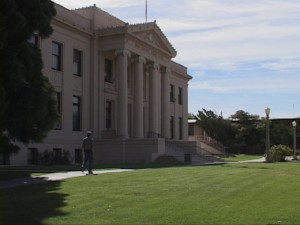 At the Inyo Supervisors meeting Tuesday, the board is set to consider a new ordinance that would give businesses in Inyo and Mono Counties some preference when it comes to county spending.
The ordinance lists two preference categories, one for small business and one for local business. The ordinance would favor a local or small business during the bid process on projects that cost under $10,000.
When bids come in on a project, the county would have to pass over the lowest bid if a local business was within 8% of the lowest bid. A state certified small business would win the contract if it was within 5% of the lowest bid.
For public works and road projects, if no local or small businesses bid on a project, the county can give a 5% preference to contractors that subcontract with small businesses.
The proposed ordinance is up for a public hearing at the Inyo Supervisors meeting in Independence Tuesday. This is a timed item set to start at 11:00 am.