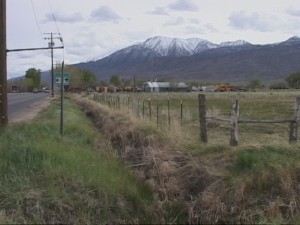 The Inyo Supervisors will hold a special meeting Thursday.  It's all in closed session about property negotiations.
The agenda items appear to address the possibility of a land purchase by the County to build a new county administrative center.  One of the negotiations involves the Mitchell Asset Group, possibly in connection with developing Inyo County land south of Bishop.
The other negotiation involves Joseph Enterprises and apparently land on the corner of Wye Rd. and Highway 6.  The two parties involved in the negotiations are apparently the two that responded to the county's request for proposals.
That RFP called for a consolidated county office space in the Bishop area.  The RFP document asked for a reduction in what the county would pay for office rent.  Currently, Inyo pays close to $400,000 a year on office building rents.  The RFP had said scenarios would include development and lease back to the county of new facilities that the county would eventually own.
Inyo County, at last report, owns one building on South St. and leases seven other buildings for county services and functions.