Board of Supervisors Accepts Ice Bucket Challenge to Fight Lou Gehrig's Disease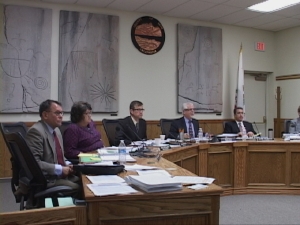 The Inyo County Board of Supervisors has accepted the ALS Ice Bucket Challenge!!! Fifth District Supervisor Matt Kingsley issued the challenge at the beginning of last Tuesdays Board meeting in honor of his brother, Phillip Kingsley who was recently diagnosed with ALS.
Kingsley said, "My brother Phillip (age71) has been actively engaged in farming for the last nine years since his retirement as a Professor of Psychology at Bluffton College in northwest Ohio.  He is the oldest of my 7 siblings and is truly a unique character who continues to provide our family with both inspiration and comic relief."
The Challenge will take place before the Board of Supervisors meeting on Tuesday, September 2nd at 8:30 a.m. on the lawn in front of the Historic Inyo County Courthouse.  The public is invited to watch all five of the Inyo County Supervisors (Linda Arcularius, Rick Pucci, Jeff Griffins, Mark Tillemans, and Matt Kingsley) along with other elected officials – Sheriff Bill Lutze, Clerk Recorder, Kammi Foote, and Auditor-Controller Amy Shepard – as well as department heads and the County Administrator as they are doused with ice water.  In addition to watching the Challenge, the public is invited to place bids for the opportunity to douse the volunteers; all proceeds will be donated to the ALS Association.
"I understand that there are many causes and situations that need attention," said Kingsley.  "But for me, the opportunity to highlight the ALS cause and the fact that my brother is suffering from ALS lead me to challenge the BOS. My motivation is really about my brother Phil."
Amyotrophic lateral sclerosis (ALS), more commonly referred to as Lou Gehrig's disease, is a progressive neurodegenerative disease that attacks nerve cells and pathways in the brain and spinal cord.  When these cells die, voluntary muscle control and movement dies with them.  Patients in the later stages of the disease are totally paralyzed, yet in most cases, their minds remain sharp and alert.
Every day, an average of 15 people are newly diagnosed with ALS — more than 5,600 people per year. As many as 30,000 Americans may currently be affected by ALS. Annually, ALS is responsible for two deaths per 100,000 people.
The average life expectancy of a person with ALS is two to five years from time of diagnosis.  With recent advances in research and improved medical care, many patients are living longer, more productive lives. Half of all those affected live at least three years or more after diagnosis.  About 20 percent live five years or more, and up to ten percent will survive more than ten years.
According to the ALS website : As of Wednesday, August 27, The ALS Association has received $94.3 million in donations compared to $2.7 million during the same time period last year (July 29 to August 27). These donations have come from existing donors and 2.1 million new donors.
Bidding and donations will be accepted at and during the challenge, or to donate without attending the challenge please visit the ALS Association web site at  www.alsa.org