By Deb Murphy
Inyo's Board of Supervisors approved a new floor rate for commercial trash haulers at Tuesday's meeting. Residential customers will be paying $30.15 a month to have their trash disappear weekly—a nearly 50-percent increase above the previous rate of $20.29.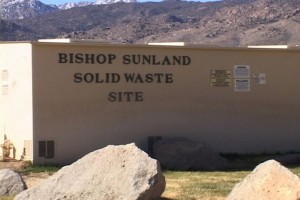 The floor rate is purported to be the base rate haulers can charge but for the sake of competition between the two, the floor rate is the de facto rate.
More than a year ago, the Board approved an increase in fees for the two commercial haulers, Bishop Waste and Preferred Septic, from a gate fee of $90 per visit to $50 a ton. Trash trucks hold up to 10 tons. The County and the haulers have been negotiating new a franchise agreement, including a new floor rate, ever since.
The rate adjustment was based on a year's worth of weighing both commercial and self-haulers at Bishop's landfill. The results indicated self-haulers were paying significantly more per load than the commercial guys. The rate adjustments, as CAO Kevin Carunchio preferred to characterize the increases, were extrapolated from a self-hauler dropping off 200 pounds for $5. That fee stays the same, but will go up for deposits in excess of 200 pounds.
Based on that adjustment, the increase would have been close to $6 a month. The rest of the $10 increase resulted from inflation since the last rate increase in 2013, new diesel fuel taxes and a 10-percent increase in the haulers' franchise fee.
Commercial operations with trash bins will also see an increase. According to Assistant CAO Rick Benson, the most common service is a 3-yard bin emptied weekly. The floor rate will go from $94.78 a month to $139.70 a month.
The good news, if you're the County: the landfills have been operating at a $900,000 loss each year. The new rates, should reduce that deficit by 66-percent.