By Deb Murphy
The only place water seems to show up in the Owens Valley lately is at meetings; it's certainly not coming out of the sky.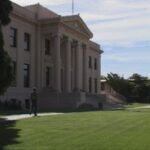 The Inyo County Supervisors approved the Water Department's recommendation that irrigation allotments be reduced by 23 percent in the Bishop Cone. The action moves the matter to the Inyo County/Los Angeles Standing Committee.
The run-off prediction of 50 percent of normal in the fourth consecutive year of severe drought will probably set a record, Water Department Director Bob Harrington told the supervisors. The irrigation reductions on Los Angeles Department of Water and Power agricultural leases will allow for better management of what little water is stored in the reservoirs on Bishop Creek.
Better management will, hopefully, avoid issues in West Bishop that surfaced over the last year. Southern California Edison delivered the full Chandler Decree allotments two years ago, having been denied a waiver from LADWP. The results were shallow residential wells running dry during the 2012-13 winter and flooding issues from a high water table during the 2013 spring flows.
The ag leases, totaling 2,300 acres, in the Bishop Creek drainage are allocated 10,958 acre-feet under the decree. Last year, that allotment was cut to 8,785 acre-feet; this year that drops to 8,438 acre-feet. The reduced flows from mid-May to August will reserve 3,352 acre-feet in storage.
But, it wasn't so much the amount of water as it was flow management said area rancher Mark Lacey. "I recognize the challenges on Bishop Creek," he said. "There are so many people involved," he added in reference to the Barlow housing developments and McLaren area. "We need a head of water for an effective spread. Irrigators have to wait for water to come through the housing development."
Lacey explained that ranchers have allotted days that water will be available. If those days include weekends, the water availability is reduced and delayed on its way through the residential area. Lacey asked that Bishop Creek Water Association members be responsible in their water use. "We have work together," he said, "but we also have to suffer together."
Last year, Lacey met with association members and representatives from Edison and LADWP. "The most important time for us (to irrigate) is May through July," he said. "Last year we offered to stop irrigation early," but the offer wasn't accepted.
BCWA President Steve Stevens made a brief statement that association members are planning on conservation measures as well as working with Edison, LADWP and the Bishop Paiute Tribe.
In other water matters, Harrington told the supervisors that LADWP is planning four new production wells: one to replace a well in Laws, two in Bishop, near the Gun Club off U.S. 395, the other at Schober and Barlow lanes and one in Bell Canyon west of Big Pine to supply water to the community's ditch system. The proposed wells will go through the Technical Group for an analysis "to see if they are consistent with the Long Term Water Agreement," Harrington said.