A lack of private land has a way of creeping into many issues in the Eastern Sierra. Empty lots, abandoned buildings, and scrappy leased property belonging to the City of Los Angeles are common sights in the towns of the Eastern Sierra.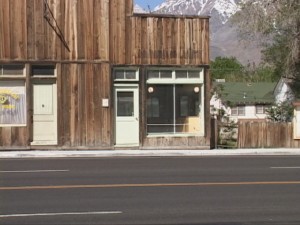 With the fact in mind that less than 2% of the land in Inyo County is private property, the Inyo Supervisors listened to an update on the possibility of the City of Los Angeles selling land in Eastern Sierra towns from Lone Pine to Lee Vining.
There are two plans in the works. The first is the auction of 75 acres agreed to under the Long Term Water Agreement in 1997. The first round of auctions for land in Big Pine and Laws did not result in many sales reportedly due to the high real estate appraisals made during the height of the real estate boom.
Gene Coufal, the Aqueduct manager for the Los Angeles Department of Water explained that if the LA City Council approves, about 54 acres of land could go up for auction in September or October. This second phase of land auctions under the water agreement includes the lands that didnt sell in the first round, but with a newly appraised price.
Land on Hanby Ave. in Bishop is set to be sold off at a later date as the third phase of land releases under the water agreement. Coufal did not estimate when this third phase of land sales would occur.
The 75 acres of land releases was agreed to years ago, but this year interim DWP General Manager David Freeman directed DWP staff to look into selling off additional DWP land in and around the Towns of the Eastern Sierra. Freeman is no longer the General Manager of the department, but staff did continue to look at additional land sales, and possible sales of property to the people that lease DWP property in the Eastern Sierra.
Clarence Martin with DWP explained that their staff looked at selling off over 100 parcels of land from Lone Pine to Lee Vining, with the, lions share, of the property in Bishop. While some of the property consists of vacant lots, or vacant buildings, other properties are leased to people. Coufal explained that DWP staff has sent out letters to lessees asking for input on potential sales of property.
There was concern that selling leased property could harm the lessees if the lessee did not win the auction on the property. To temper this, the lessee could sign a long term lease which would carry over for time with the new owner, Coufal explained.
While there is some risk to the lessee of the property being sold to someone else, Supervisor Susan Cash was supportive of the effort stating, This is the opportunity that everyone said they wanted.