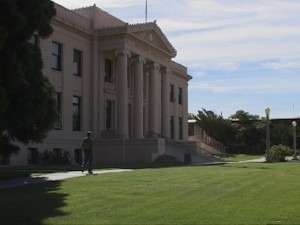 Inyo County officials have spent a lot of time in Sacramento at the California Energy Commission. They want to keep track of plans by Bright Source Development to build two 250-megawatt solar thermal power plants just west of the Nevada border in Inyo County. At today's Supervisors' meeting, the Board was expected to consider a move by Bright Source to adhere to Inyo planning rules.
This is noteworthy, because the California Energy Commission has exclusive permitting jurisdiction over the project. Inyo can try to exert pressure and can comment in the environmental document on the plan. Bright Source has proposed two power plants with two 750-foot towers, each surrounded by 85,000 mirrors.
The project is not consistent with the Inyo County General Plan and zoning. Bright Source has hesitated to apply for a General Plan Amendment and Zoning Reclassification. The company will now do that, and the Inyo Planning Department has negotiated a contract for this process. The contract includes an amount not to exceed $247,401 to pay for the planning processes.
Meanwhile, the California Energy Commission expects a decision on the project later this year.
Inyo County officials have objected to paying for additional services for the project with not enough property tax dollars from Bright Source to cover those services. They also point out that the project offers few, if any, benefits. Most jobs, they say, will be filled by people from Nevada which is closer to the project with a pool of possible workers.
Inyo Supervisors will consider approving the contract with Bright Source.