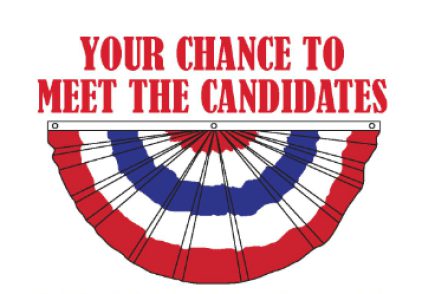 The final candidate forum held at Cerro Coso College Thursday evening featured the 3 rd District candidates Kody Jaeger and Scott Marcellin. Both are multi-generational residents of Bishop.
Jaeger is a member of the Bishop Paiute Tribe with an Associate Degree in general education and Bachelor's in criminal justice. Marcellin, with a degree in electrical engineering, is a third- generation resident and owns his own business.
Question 1: What is the role of county government and how will you help District 3?
Marcellin read off the list of functions of and services provided by Inyo County.
Jaeger explained the role of government was to ensure the staff and departments have all the
tools to do their jobs, noting that "happy employs mean happy citizens." The Supervisors had a
responsibility to both. "We need to start appreciating our staff," she said.
Question 2: How would you help to work with the city, tribes and other agencies to benefit the residents?
Jaeger has ties to the tribal communities as well as relationships with other agencies through
her position with the Bishop Paiute Tribe.
Marcellin has been building relationships in the community for 50 years. He expressed the need to bring everyone to the table and work together.
Question 3: How can the County address small business development, the Small Business Resource Center and access to California's Community Economic Resilience Fund (CERF)?
Marcellin said the SBRC was an amazing platform and Allan Pietrasanta has provided great
leadership of to the Eastern Sierra Business Council. He noted the grant funding made available to the business center.
Jaeger said she would promote the Small Business Resource Center in the tribal community.
She looks forward to developing a local work force with the necessary skills. "This is a great way
to bring businesses back to Bishop," she added, noting, however, that housing issues make it
difficult to hire from outside the area.
Question 4: What can Inyo County do better to address housing issues?
Jaeger would work with the city of Bishop to address workforce housing and collaboration for
federal funding, but it is also important to recognize the difference between not being able to
find housing and not being able to afford housing. The Bishop Paiute tribe is developing low-
income housing and she would look for ways to collaborate with Bishop. "The Tribe has
temporary solutions," she said. "We need permanent solutions."
Marcellin acknowledged the city has purchased land for housing, is working on grants and
looking at two other tracts of land for potential housing. He said Inyo had to start working with
the Los Angeles Department of Water and Power and pursue infrastructure grants to facilitate
working with developers.
Submitted Question 1: As Supervisor, what would you do protect the environment?
Marcellin acknowledged the number of environmental laws addressing air quality, but was
concerned what would happen when there was no more natural gas and semis have to be
electric—"where do we put the charging stations and build a grid large enough?" He
anticipated we were "heading for collapse" and thinks solar systems go off at night.
Jaeger focused on clearing fire breaks as a priority. She would encourage more eco-tourism and educating tourists. "We need to support those groups who protect the environment and stress protecting, restoring and respecting the environment. We have to look at what we're leaving the next generation."
Question 2: What is the most important issue facing the County?
Jaeger: Employee housing. "People respond to want ads but have no place to live. She noted
work being done on the reservation to address affordable housing and stressed building
partnerships.
Marcellin agreed that work force housing is the big issue. He cited California Senate Bills 9 and 10 that eased restrictions on Additional Dwelling Units, but was concerned that could become a mandate. "We should have a choice," he said. "The County's been dying for 30 years; it's time to address it," he said.
Question 3: Would you support the County subsidizing year-round air flights?
Marcellin said "we need those airplanes to fly." He felt Inyo built the airport too small and
needed to prepare for future growth. He wants to see year-round flights and flights from the
East Coast.
Jaeger wanted to see more data and understand the pros and cons of subsidies. "We need to
work out the bugs before we 'go big,'" she added. She supports developing opportunities.
Question 4: What can the County do to help communities that lack infrastructure, specifically fire hydrants?
Jaeger explained the tribes are working on defensible space and everyone should be involved
with community emergency management teams. She feels the lack of fire hydrants is a
significant issue that needs to be addressed.
Marcellin said some communities do not require hydrants, but those issues have to be
addressed. He felt things like water tanks, wells and hydrants should be up to each community.
Question 5 addressed the fact Supervisorial meetings are held during the day when the working public couldn't attend.
Marcellin said because staff was required to attend, night meetings were not feasible.
Jaeger would hope the decision on meeting time had community input. She offered the
suggestion that flex time could be given to staff required to attend the meetings.
Question 6: Do you have confidence in the Inyo Count election process?
Both candidates did.
Question 7: Since the word collaborate has been used a lot, define what it means to you.
Marcellin: Getting together, meeting with multiple organizations.
Jaeger: Relationship building. Collaboration can happen when there is one, mutual goal.