By Charles James
Linda Arcularius is retiring at the end of the month. She has been Inyo County's First District Supervisor for over 21 years after being first appointed to fill a vacancy on the board in 1993. She then went on to win 5 elections, four of which were uncontested.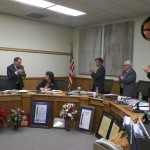 Not only is Arcularius one of only five women to have ever served on the board in the County's history, she is also one of its longest serving members. She leaves tremendous legacy and it is truly the end of an era.
The Board of Supervisors meeting held Tuesday was an emotional affair. It was the last regular public Board meeting for Arcularius. And as one tribute after another was made by members of the public, county employees and department heads, civic leaders, and the other County Supervisors, Arcularius had some difficulty maintaining her composure; her voice breaking and wiping away tears. But many others present were similarly affected as well. It was clear that she was well-liked and appreciated by many of those with whom she has served and worked with in the county.
The Board's Chairman, Third District Supervisor Rick Pucci, began the meeting by reading a County Proclamation honoring Arcularius' long service to the people of Inyo County. It was an impressive list spanning 21 years of serving on dozens of boards and commissions and overseeing implementation of many programs and projects. Just reading the proclamation took seven minutes, after which Pucci told her, "It has been a privilege and honor to know and work with you."
Fifth District Supervisor Matt Kingsley echoed Pucci comments, saying, "I feel really lucky," drawing laughter when he added, "She's been really nice to me."
Second District Supervisor, Jeff Griffiths, told Arcularius, "I feel blessed to have spent the past 2 years on the board with you."
Fourth District Supervisor, Mark Tillemans, said that he learned that the "most important in serving the public is "respect," going on to note that when Arcularius took a stand, she would always explain 'why.'" Later, she would express her appreciation of Tillemans' ability to be brief, succinct, and to the point in board discussions.
Former County Supervisor Julie Bear, on behalf of the Sierra Nevada Conservancy, called in her best wishes over a conference speakerphone. She read a letter expressing gratitude and appreciation for Arcularius role in creating the SNC. Bear said that she and others always appreciated Arcularius "healthy skepticism and constructive engagement," and ended by wishing her the best.
Fire Chief Ray Sequine presented a plaque on behalf of the Bishop Rural Fire District and thanked Arcularius for her unwavering support over the years, especially crediting her for her involvement in the face of some opposition for their 2006 effort to build a training facility for local firefighters which has since benefitted many of the fire departments throughout the county.
Jaque Hickman of Lone Pine, accompanied by the Lone Pine Film History Museum Director, Bob Sigman, thanked Arcularius for "always attending local events representing the county board" and for her "support of all of the county, and not just her district." Hickman ended by saying, "We will miss you."
Lisa Reel, Executive Director of Wild Iris, thanked Arcularius for her support, noting that she is a member of the Wild Iris Advisory Board. Reel said, "We are very grateful for the county's support, without which we could not be successful."
Jeff Thomson, the County's Chief Probation Officer, offered his thanks for Arcularius support of Juvenile Hall and presented her with a plaque on behalf of his department. He was followed by Health and Human Services Director Jean Turner who expressed her gratitude to Arcularius as well and then, along with several others from HHS and with audience participation, sang a Frank Sinatra song with altered lyrics "She did it her way." Most of those singing are planning on keeping their day jobs.
Tom Noland with Spainhower Ranch in Lone Pine expressed his appreciation on behalf of Cattlemen's Association and the people in agriculture for Arcularius strong support over the years, as did retired Inyo-Mono Counties Agriculture Commissioner George Milovich.
The City of Bishop, represented by City Administrator Jim Tatum, invited Arcularius to a January 12 Meeting for a special recognition from the City Council.
Inyo County Sheriff Bill Lutze spoke fondly of his experience working with a then-new County Supervisor as an interim County Undersheriff in the early 90s, and went on to tell those present that, "Linda was here for us. She understood. She was a rock. I became a very dear friend… and you (Linda) are going to be deeply missed by law enforcement."
County Administrator Carunchio, drawing laughter, noted that the dais in front of Arcularius was beginning to resemble a shrine with all the flowers, framed proclamations and plaques. He then related how he first met Arcularius when he applied and was interviewed for the Deputy County Administrative Officer position with the county. He described her as "diligent in her research of county issues" and someone who approached her job "with a tremendous sense of humor." He then went on to present her with another framed proclamation from the California State Assembly.
When it was finally Arcularius' turn to speak, she told the board that she had a gift for the County.
"It has always bugged me that we did not have copies of our country's founding documents in our building," she said, unwrapping three large packages. She then presented the board with framed copies of the original Declaration of Independence, the U.S. Constitution, and the Bill of Rights, which she hopes will be placed in a suitable location in the administration building.
Arcularius went on to thank everyone for coming, saying "It has been memorable and meaningful." She especially wanted to thank her husband Howard of 44 years for his many years of support. She said that, while many people may thought of her as being 'smart'­− "The smartest thing I ever did was marry him."
Noting that "I had a job to do and I worked hard at doing it," she thanked her three children, grandchildren and friends for their understanding and support over the years for those times that she had to spend time away from them representing the county. Her final comments were met with a standing ovation.
Arcularius' term as Inyo County's First District Supervisor expires at the end of December.