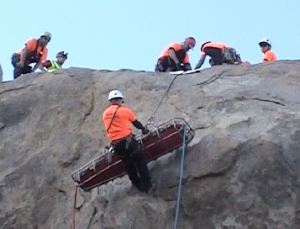 Volunteers from the Inyo County Sheriff's Posse Search and Rescue team were put to the test this past weekend by the Mountain Rescue Association (MRA).
During two days of testing, the Inyo SAR team was evaluated in two disciplines, Technical Rock Rescue and Search & Tracking. The team received a passing score in each and high praise for combined skills, incident management and excellent team work.
The Alabama Hills was the setting for the MRA's annual recertification and over 250 highly trained rescuers from 20 different teams from the California Region participated in the test. The test was coordinated by the Ventura County Sheriff's East Valley Search and Rescue Team out of Thousand Oaks.
Each participating team was required to have at least 6 rescuers, 1 victim (a volunteer to play a victim in a life-like scenario) and 2 evaluators. Realistic scenarios are set for each team to demonstrate their rope rescue, high angle rescue, search, tracking and medical skills.
More than 20 Inyo SAR team members committed to a demanding training program for over three months and fielded a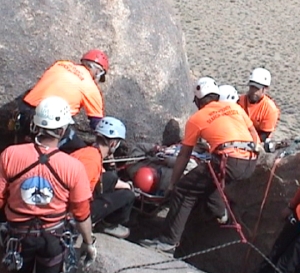 large and well prepared team for the evaluation.
A challenging technical rescue scenario was set for the Inyo SAR team and the scenario victim' was raised on a rescue litter from a cave then lowered over two vertical drops and carried out over low angle terrain. The scenario required two full rope rescue systems which the team performed safely and efficiently.
The Search component required precision in mapping, direction finding and tracking. The scenario set for the team was to find a downed aircraft and missing pilot and it was successfully completed in 80 minutes.
Although the good weather during the test weekend was appreciated the team does train for adverse conditions and next year the Inyo SAR team will participate in the MRA Snow and Ice Recertification.