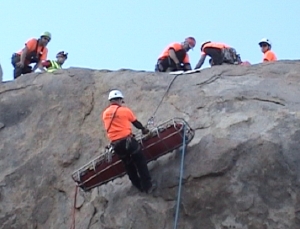 A Redondo Beach man, lost in the Mount San Jacinto Wilderness, drew search and rescue units from eight counties and some state agencies, including Inyo Search and Rescue.
The Sheriff's Emergency Responose Team or SERT operation was coordinated by the Riverside Mountain Rescue Unit. Last week-end, deputies respondeds to concerned family memberes who said Brian Carrico, 57 of Redondo Beach did not return at a predetermined time from his hike into the wilderness.
The hiker planned to go to the top of a peak but weather moved in and conditions were near white-out snow with temperatures down in the twenties. The man's last cell phone call to family came during these conditions, and then they could not reach him.
Search and rescue teams moved in from the counties of San Diego, Kern, Inyo, San Bernardino, Los Angeles and others. Our Gigi Van der Riet was on scene with Inyo Search and Rescue and she video-taped command post and public information spokesperson who explained that Carrico had lmade it to the 8600 elevation, made a snow cave and carved three x's into the snow. China Lake Search and Rescue tracked shoe impressions and Riverside County Sheriff's Aviation Bureau spotted Carrico on the ground. He was airlifted to an awaiting ambulance and family.