Inyo County Sheriff's Office press release
On December 15th the Inyo County Sheriff's Office received notification of a deceased 18-year-old female at Outpost Camp, which is a stopping point on the route to Mt. Whitney.
According to her father, who was both the hiking partner and reporting party, she had always wanted to hike the Mt. Whitney trail. Her father also indicated that both he and his daughter were experienced hikers, including hiking in winter conditions. They set out Monday mid-day with no intention of summitting; rather they just wanted to go as far as they could safely and return.
By early evening they reached Outpost Camp, where they decided to camp for the evening. Her father indicated that the 18-year old had been experiencing a headache; when he woke up the following morning she was deceased.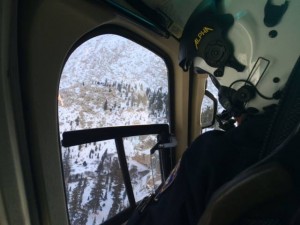 CHP helicopter (H-80 out of Apple Valley) and two Inyo County Search and Rescue members recovered the body this afternoon. The Inyo County Coroner is working with the Orange County Coroner's office to determine cause of death.
Our deepest condolences are with the family.