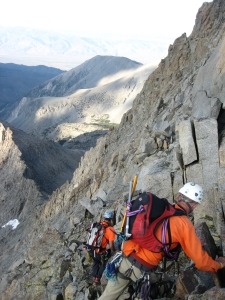 Inyo County Search and Rescue are continuing their search for 60-year old Gary Dankworth, from Carson City, NV.  Dankworth was reported as an overdue hiker on Sunday July 29th – Inyo County SAR began their search at approximately 1:20pm on Sunday.
According to the reporting party Dankworth was climbing Norman Clyde Peak (above Big Pine).
Dankworth has black/gray hair and moustache; he is wearing a light gray hat, tan long-sleeve shirt, light gray pants, red boots and is carrying a day pack.
Assisting in the search are Inyo County Search and Rescue, Montrose Search and Rescue, China Lake Mountain Rescue Group, Kern County Search and Rescue, and air support is provided by California Highway Patrol H-80.
If anyone was hiking in the middle Palisades Glacier area or Norman Clyde Peak and may have had contact with Dankworth, they are asked to contact the Inyo County Sheriff's Department at 760-878-0383.