A Cadillac stuck in the White Mountains led to an all night rescue for the Inyo Sheriffs Department and Search and Rescue Volunteers.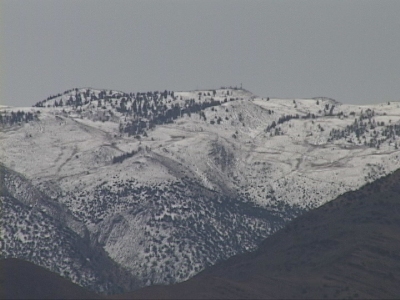 Sergeant Keith Hardcastle explained that 64 year old Montana resident Joe Beck, is lucky to be alive, after the all night rescue effort that required a snow cat to pull off.
Sgt. Hardcastle reports that on Sunday at about 1:00 p.m., Beck drove his Cadillac Escalade off the Bristlecone road down an embankment, through sage brush, ice and snow. The vehicle finally stopped three miles off the road on Wyman Canyon Road. Beck put out a distress call with an OnStar device, built into the vehicle. The OnStar device uses satellite and cell phone connections to send out a call for help if a driver needs it.
The OnStar call came into the Sheriffs Department just before 7:00 Sunday evening. Sgt. Hardcastle and a search and recue volunteer used the team snowcat to reach the stranded man.
Beck was not taken to the hospital. Hardcastle says that other then being shaken up and cold, he (Beck) was in good condition.