At the last City Council meeting, Inyo Forest Supervisor Jim Upchurch gave the Bishop City Council an update on the Travel Management Plan for motorized vehicle travel.
The process has been divisive over the years; but with a decision now in place, Upchurch says that the Inyo National Forest is a model that other national forests may follow.
The debate over which dirt roads and trails for motorized vehicles to keep open and which to close off has been at the center of this process. At public meetings over the years, tempers flared between off road vehicle drivers and those that are concerned about vehicle impact.
In the end, people with diverging points of view like the Advocates for Access to Public Lands and the Friends of the Inyo, were put into the same room to work on an alternative that both sides could live with. Rather than fight, people kept coming back to the group meetings, putting in the work to match the maps of the roads with vast knowledge of individual routes throughout the forest.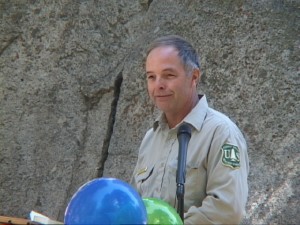 The group became known as the Collaborative Alternative Team, or CAT. When all was said and done, the group backed an alternative plan that Jim Upchurch eventually chose as the way forward for the Inyo. Upchurch told the City Council that he was really proud of what they accomplished, adding that the cooperation on the CAT says a lot about this community.
Upchurch says that so far he has heard from state and national OHV groups along with environmental groups that want information on how the process worked for the Inyo. People are calling all the time, he explained, adding that there was one call from a person that wants to do a masters thesis on the Inyo plan.
The plan would close over 600 miles of dirt roads and vehicle trails on the Inyo, leaving over 3000 miles. Many miles are former logging roads in the area known as the spaghetti bowl near Mammoth. 94% of the routes in Inyo County are left as is, Upchurch explained.
It may take some time to see how this plan plays out on the ground. Councilmember Bruce Dishion hit on this point. He thanked the group for their work but said that he would withhold judgment on the new travel management plan for a couple of summers, presumably so he could head out exploring like many people do and see the effects of the plan first hand. 600 miles has to go somewhere, he said.
If this new plan is not appealed, the Forest Service can put it into action and start to publish updated maps on the road system this winter.