Inyo County issued the following press release:
On Tuesday, the Inyo County Board of Supervisors took steps to end Inyo County's 24-year role as providing administrative services to the Inyo Mono Area Agency on Aging. In deciding to notify the IMAAA Governing Board of its decision not to continue providing administrative services after June 30, 2012, the Board cited escalating costs.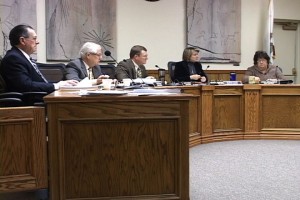 "We have a 24-year old agreement with IMAAA that requires the County to provide four specific staff positions to carry out administrative services on behalf of the JPA, but the contract only pays Inyo County $62,000 to fund those four positions plus all of the other requirements of the contract," said Board Chair Susan Cash. To make up the funding shortfall, Inyo County has had to contribute increasing amounts of money from its General Fund.
By providing IMAAA and the State of California early notice of the County's intent not to continue administering the programs, which are ultimately the responsibility of the State and not Inyo or Mono counties, Inyo County said it hopes to give all the parties a chance to find a new administrator or some other solution to this long-standing problem. In the meantime, the Supervisors stressed there will be no change in the range of services currently provided to seniors in Inyo and Mono counties, which range from meals to home visits and legal assistance.
The Inyo County Board of Supervisors action included approving the $1.6 million total Inyo Mono Area Agency on Aging (IMAAA) budget for Fiscal Year 2011-2012. As a result, all current senior programs will be fully funded through June 30, 2012. However, in order to balance the IMAAA budget Inyo County had to contribute $686,514 from its General Fund to IMAAA. The staff report indicated that $393,388 of this was estimated to pay for administrative costs that Inyo County performs for IMAAA, and which benefits other contractors and sub-contractors to the JPA, including Mono County, Ombudsman Advocacy Services, and Indian Legal Services.
Currently, IMAAA is governed by a Joint Powers Agreement between Inyo and Mono counties that establishes an IMAAA Governing Board to oversee the senior programs in both counties on behalf of the State of California which, ultimately, is required to provide services to senior citizens under the Federal Older Americans Act. Both Inyo and Mono counties contract with IMAAA to provide direct services to their respective senior populations, but Inyo County also provides regional administrative services under the terms of its contract with IMAAA.
As part of its action, the Inyo Board approved a letter to the IMAAA Governing Board and the Mono County Board of Supervisors that states Inyo County intends to not renew its contract to administer regional IMAAA programs on June 30, 2012. The Board is also considering whether it should take action to try and alter or even withdraw from the IMAAA Joint Powers Agreement, but has not reached a final decision on that question.
However, the Board of Supervisors also reiterated Inyo County's support of the current county programs and services provided directly to Inyo County seniors by stressing that, at the worst, Inyo County could simply take over the senior programs from IMAAA, and fund them with county money.
Inyo County has borne the costs of administering the IMAAA programs for 24 years, and the decision to take the first steps to alter that long-standing governing structure was not taken lightly. "This is a defining moment in public policy," said First District Supervisor Linda Arcularius, "because it directly affects peoples' lives."
Roger Rasche, Chairman of the IMAAA Advisory Council, acknowledged the structural budget deficits IMAAA has faced in the past years, and praised the Inyo County Board for its years of unquestioned support of IMAAA, which is evident in the county's willingness in recent years to use General Fund money to support IMAAA, which is primarily a federal- and state-funded program.
"I really appreciate the fact that you and your staff are really, really concerned about providing services to seniors," Rasche told the Inyo Board. "Your people work so hard and are so concerned about running the best program you can."
Currently, Inyo County Health and Human Services administers the IMAAA program. State and federal funding of $774,231 is split between the counties based on the number of seniors (those over 60) in each county. Inyo County receives, 72.5 percent of the program funding, or about $604,000, while Mono County receives the rest, about $171,000, which it uses to provide direct services to its seniors. In addition, Inyo County receives about $62,000 for regional administrative costs, including all State-imposed reporting requirements for both Inyo and Mono counties.
Although the County is declining to provide regional program oversight for IMAAA beginning next July, in its letter the Inyo board stressed its desire to continue contracting with IMAAA or the California Department of Aging to continue providing direct services to Inyo County's seniors.