A week after first considering the project, Tuesday the Inyo Supervisors voted to stay out of a plan for Federal Scenic Highway designations on local roads.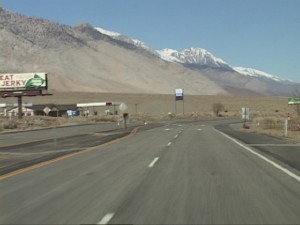 Mono County, the Town of Mammoth, and the Forest Service are working together to possibly seek Federal Scenic Highway designations for sections of 395, 203 in Mammoth and the June Lake Loop.
If they were interested, Inyo County could join the effort and include roads like 168 to South Lake, or 395 through the Owens Valley.
Forest Service staff explained that the Federal Scenic Highway status helps advertise the roads nationally and could bring in additional federal highway money. The downside, according to Forest Service staff, would be restrictions on new billboard advertisements and possibly more traffic.
In Mono County, the highway crosses through long stretches of Inyo National Forest Land. Inyo County has towns that front the highway, leading the supervisors to be concerned about the effect of the designation on private property.
Many miles of road in question are already designated as scenic highways by the state of California. This new plan is for Federal Scenic HIghway designation. Museum Director John Klusmire explained the difference between state and federal scenic designations is that the state designations come with restrictive regulations and no money, while the federal program has few restrictions and does come with money.
Supervisor Susan Cash pushed to join the effort, if for no other reason thAn to see what the public thought of the plan, but in the end the idea of bringing in a new designation for Federal Scenic Highways was a non-starter. The supervisors voted 3-2 against.