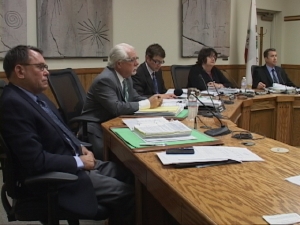 Inyo County's response to the Department of Water and Power pumping plan reveals that water levels in all well fields are below the baseline expected to protect the environment. The letter also reveals that vegetation is below baseline in five of seven well fields. Is this a condition that can go on without serious consequences? We talked to three of the five Inyo Supervisors.
Supervisor Jeff Griffiths did push to reduce pumping in the Big Pine area, but he also said there is no criteria for when we attempt to cut back on pumping. He said, "I had no procedure to fall back on." Asked how he feels about delays on the critical revision of the pumping management section of the Long Term Water Agreement, Griffiths said, "I feel that the DWP strategy is to delay, and they are very good at it. The question is what should we do. I will look for that answer."
Supervisor Matt Kingsley was not in attendance at the Board meeting which addressed the pumping plan. He said he needed to look into the situation further but commented that "DWP is starting at a more reasonable place."
As for the pattern of lowered water tables and diminished plant life, Supervisor Mark Tillemans said, "This continuing pattern should be, and is of concern to us all. I'm doing my best to learn what my role is," he said, "and how to most effectively implement positive change regarding this matter." Tillemans called it a complicated situation and said, "The Water Agreement does not have effective dispute procedures."
At least 30 years ago, citizens warned the Supervisors that the Water Agreement language would never protect the Owens Valley environment. The awkward processes in that agreement have proven to be of little help. Supervisor Jeff Griffiths said he is trying to "get better procedures in place to resolve disputes and revise the Green Book", which is the pumping management plan in the Water Agreement. Said Griffiths, "We need to make groundwater management functional." He added that it is very distressing to him – the lack of the Supervisors' ability to solve anything.
Griffiths also pointed to the Black Rock area north of Independence which is now in a dispute process with DWP. This issue has dragged on for more than three years, and, as Griffiths said, "Groundwater dependent vegetation is gone and won't come back." He also said, "The current method of delay, delay, delay does not serve Inyo. Impacts happen before action can be taken," he said.
We also placed calls to Supervisor Chair Linda Arcularious, who did not return the call. Supervisor Rick Pucci did return our calls, but we did not connect with him for his comments on groundwater issues.
More on the pumping plan when the Inyo-Los Angeles Technical Group meets Wednesday morning at 10am at the Inyo County Water Department Conference Room in Independence. At that meeting, staff members will talk about pumping and about DWP's proposed reduction in irrigation for this runoff year. DWP has also requested a reduction of mitigation project water supply for this year.