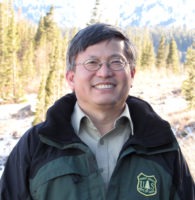 The Inyo National Forest welcomes Winfred (Fred) Wong as the Mammoth Lakes District Ranger. Fred comes from the Bureau of Land Management (BLM) as the Assistant Field Manager at the BLM California Ukiah Field Office. He has more than 20 years of federal service with both BLM and the Forest Service.
Most recently with the Forest Service, he served as a District Ranger at the Stanislaus National Forest on the western slope of Sierra Nevada. Prior to that, he served as the Forest Biologist for the Tonto National Forest in Arizona and a Wildlife Biologist for the  BLM Arizona Yuma Field Office.
"I know Fred from our days as district rangers in California and couldn't be more thrilled to be working with him again," said Lesley Yen, Forest Supervisor. "I know he will be a great asset to the forest and provide strong leadership for the Mammoth Ranger District."
Fred graduated from the University of California, Irvine with Bachelor of Science degree with a concentration in Ecology and Environmental Biology, and he earned Master of Science degree in Biology at Baylor University in Texas studying birds in Big Bend National Park.
Fred is originally from Southern California, and frequently recreated in the Eastern Sierra.  Fred shared, "I have fond memories of bouldering in the Buttermilks, backpacking in the John Muir Wilderness, and cross-country skiing around Lake Mary."
Fred is second-generation Chinese American and he is passionate about engaging underserved communities on public lands. "While hiking on trails, I'm always encouraged and energized when I see underrepresented groups enjoying the great outdoors," Fred said. He hopes to work with partners to bring more underserved communities to public lands like Inyo National Forest. Previously, Fred and his non-profit partners started the website, https://exploreapaheritage.com/ , to encourage Asian Pacific American cultural tourism on public lands. The website describes locations of Chinese pioneer contributions on public lands that helped build the American West in the late 1800s.
Fred joins his partner, Rebecca Carr Wong, who is the new monument manager for Devils Postpile National Monument. The Inyo National Forest is delighted to welcome both of them to the Eastern Sierra.
The Inyo National Forest would also like to thank Leeann Murphy for providing essential leadership as the Acting District Ranger for the Mammoth Lakes District while the permanent selection was made and for her assistance to help welcome Fred and provide a seamless transition.