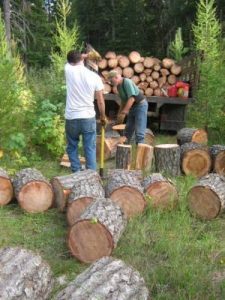 Inyo National Forest is has completed the work removing hazard trees from the Inyo Craters hiking trails and associated roadways, and is announcing the opening of public fuelwood collection for those who have a current, valid Personal Use Fuelwood Permit.
www.fs.usda.gov/goto/Inyo/FirewoodPermits
How to request a permit:
If you request a permit by email or mail, the permit will be mailed.
Email: 

[email protected]

Mail: Inyo National Forest, Attn: fuelwood permit, 351 Pacu Lane Suite 200, Bishop, CA 93514
In person: 

Mono Basin Scenic Area Visitor Center in Lee Vining (760) 647-3044
Mammoth Lakes Welcome Center in Mammoth Lakes (760) 924-5500
White Mountain Ranger Station in Bishop (760) 873-2500
Where to collect the wood:
Maps showing areas open to cutting are provided with a fuelwood permit, and here: www.fs.usda.gov/Internet/FSE_DOCUMENTS/fseprd1013740.pdf. Additionally, this map can be downloaded onto the Avenza Maps app to easily located where you are.
For this special project only, Forest Service officials are allowing wood collecting on the western side of Dry Creek road (Forest Road 3S22). Normally, only the eastern side is allowed).
Please note: Permittees will be required to park within one vehicle width of existing roads during collecting activities. All other wood cutting regulations are in effect.
When to collect the wood:
Typically, during this time of year no chainsaw use will be permitted after 1:00 p.m. due to the higher temperatures and lowest relative humidities of the day, increasing the chances of sparks igniting a wildfire. Chainsaw shut down days will continue as usual based upon the daily Project Activity Level. Permit holders can call (760) 873-2555 (Option 2) for information on activity levels.
The Fuelwood Strategy, developed with public participation in 1998, remains valid and continues to be implemented this year. Large ends of all downed logs (greater than 30 inches in diameter) are required to remain on the forest floor for wildlife habitat and recycling of soil nutrients. The majority of funds collected from permit sales are returned directly to the forest for this program.