Like the plot of a high-stakes suspense novel with hundreds of projects, thousands of jobs and billions of dollars on the line, the California State Senate continued wrangling behind the scenes to come up with a budget. Inyo-Mono senators remained high profile in the legislative drama.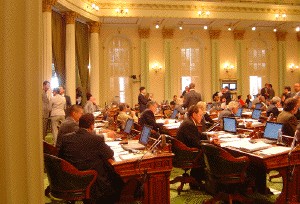 At news time, the Senate still lacked one Republican vote to approve the budget. The Sacramento Bee had reported that Inyo Senator Roy Ashburn might provide the pivotal vote or deliver another vote to pass the budget plan. Ashburns office indicated that the Senator had made no decision.
The Bee also named Mono County Senator Dave Cox as a potential Republican solution. Republican senators see the budget plan as one that asks for too many tax dollars from citizens and not enough spending cuts. Governor Schwarzenegger and Democratic senators support the budget measure as do two Republican senators. One more Republican vote would achieve the two-thirds majority needed.
Mono County Senator Cox is quoted as saying that new taxes are the straw that broke the camels back. Republican senators generally expressed the irony of the fact that President Obamas stimulus package would add money to taxpayers pocketbooks while the states budget proposal would take money away.
The budget plan would create new, but temporary, taxes and fees over the next 17 months, including a one cent sales tax increase, a hike in vehicle license fees, a 5% surcharge on state income taxes, a reduction in income tax credit for children and a new gasoline tax of 12 cents per gallon. These taxes and fee increases are temporary with definite end dates.
If the California Senate refuses to approve a budget, the losses loom high 20,000 state employee layoffs, the shutdown of 374 construction projects valued at nearly $6 billion. The projects range from highway to prison and flood control work which would impact an estimated 92,000 jobs.